< Back to titles

> Cover Page, Authors, Institutions

> Purpose/Objective

> Materials/Methods

> Results

> Conclusions

> View additional images/videos


About the Presenter:
Mohammad Amin Seyedian was born in Abadan, Iran. He is married and has a two-year- old son. He earned his medical degree from Tehran University in Tehran, Iran. After four years of residency, he specialized as an ophthalmologist from Farabi Eye Hospital, Tehran, Iran. He completed his Anterior Segment Fellowship in the same hospital and worked as a cornea surgeon for 3 years. He is currently a Corneal and External Disease Clinical Fellow at Moorfields Eye Hospital, London, United Kingdom. He is active in research with particular interest in ocular surface pathophysiology and corneal surgery.

Contact the presenter at: mohammad.seyedian@moorfields.nhs.uk



Authors:
Mohammad A. Seyedian, MD
Hassan Hashemi, MD, Shakiba Ebadollahi, MD


Click on images to enlarge (a new pop-up window will open)

Deep Anterior Lamellar Keratoplasty with Intra-Stromal Injection of Air: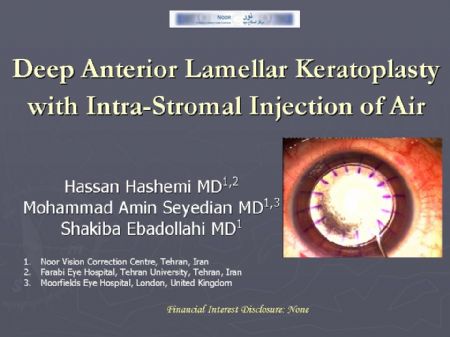 Acknowledgment: