< Back to titles

> Cover Page, Authors, Institutions

> Purpose/Objective

> Materials/Methods

> Results

> Conclusions

> View additional images/videos


About the Presenter:
1999:Medical Degree at Federal University of Pernambuco-UFPE/Brazil.2000-2001:Ophthalmology Residency at Altino Ventura Foundation/Eye Hospital of Pernambuco(FAV/HOPE)-Recife/Brazil. 2002:Clinical Fellow in Cornea and External Diseases at FAV/HOPE- Recife/Brazil. 2004-2005:Clinical Fellow in Refractive Surgery at Federal University of Sao Paulo -UNIFESP/Brazil.
2006: Current Postgraduation Program (Doutorate Candidate) at UNIFESP/Brazil.

Contact the presenter at: iane_stillitano@hotmail.com



Authors:
Iane G. Stillitano, MD
Ester S. Yamazaki, MD, Mauro Campos, MD, Luiz Alberto S. Melo, Jr, MD, Juliana M. Bottós, MD


Click on images to enlarge (a new pop-up window will open)

Custom LASIK and PRK Performed by Surgeons-in-Training: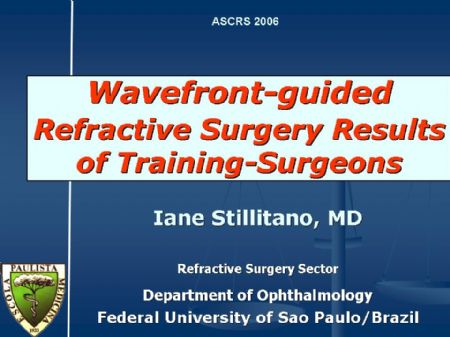 Acknowlegments to Co-authors: